Camera-Ready Instructions and Paper Templates

Paper submissions should be limited to a maximum of 12 pages in the IEEE 2-column format (see Conference Templates). This is valid for Long, Short or Doctoral Papers.
Long papers have 30' oral presentations, Short and Doctoral papers have 20' oral presentations (Questions & Answers included)
Caution : Don't add headers, footers, paper Id or page numbers. Don't forget to mention the authors names.

Please use the IEEE eXpress PDF tool (Conference ID : rcis09x)to convert your source file into IEEE Xplore compliant PDF File or to check if your own PDF file is IEEE Xplore compliant. IEEE PDF eXpress is a free service to IEEE conferences, allowing their authors to make IEEE Xplore-compatible PDFs (Conversion function) or to check PDFs that authors have made themselves for IEEE Xplore compatibility (PDF Check function).
It is important to note that submitting a file to IEEE PDF eXpress is only for creation of a compliant PDF file, you must still submit your final paper through online submission.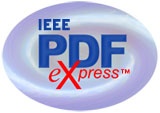 How to use IEEE PDF eXpress (Conference ID : rcis09x)

You may download the Word or Latex templates form RCIS'09 Site by using the links below. All papers must be submitted in PDF format for reviewing. Communications must be written in english.

The manuscript must contain, in its first page, the paper title, the paper category (technical solution, evaluation, industrial, doctoral), Authors Names, an abstract and a list of keywords.

Word Template :

Download the author's templates for Microsoft Word. These files contain a template for you to use in creating your paper (with authors names).

US Letter A4

LaTeX Template :


Download the PDF version of IEEE "Information for Authors" kit

Download PDF Specification for IEEE Xplore